Dressing-up is an art, and we all want to dress up elegantly. The dress you select must gel with your figure also. Get to know about the short sleeve dresses that best highlight your physique. Before making your choice, have a look at all the dresses. Choose your dress as per your physique so that you look the best.
A-Line Dress
This short sleeves A-line dress is meant for you if you have a pear-shaped figure. The short sleeve dress will perfectly highlight your wider thighs and hips with narrow shoulders. You will look innovative and trendy when you pair this dress with sneakers or canvas shoes. The dress will create a well-balanced look, and the shorter sleeves are meant to highlight your toned hands. Walk around smartly with this dress and get complimented for your dressing abilities.
V-line Sleeveless Dress
If you have an athletic figure, then this simmering blue dress is bliss for you. Get them in your collection for a brilliant look. Your well-toned shoulders and waist-line will also get flattered along with your curvy thighs. Give a feminine touch to your athletic body with this V-neck dress that goes well with stilettos. You will love the wavy pattern of this beautiful dress. Wear it on a Sunday morning, and your peers will praise you for your perfect body.
Wavy Frock Dress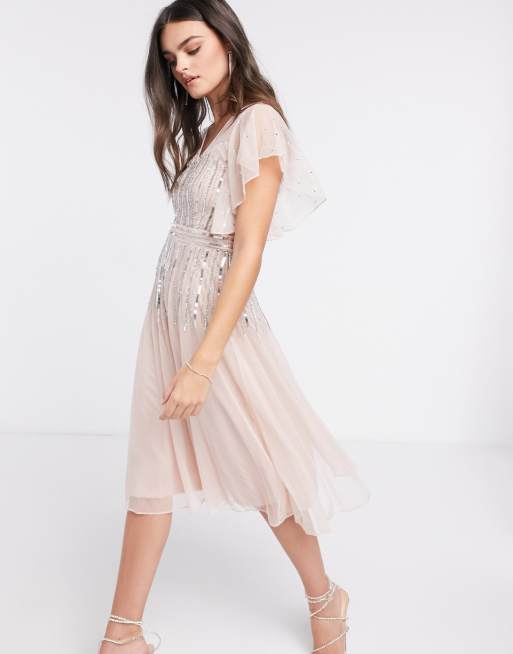 If you have a sleek figure, then go for this light blue dress. The dress has perfect short sleeves that will highlight your ideal figure and impart a sharp look. Pair this wavy dress with flat ballets for an evening look. The sleeves are designed to highlight your sleek and firm hands. You will feel comfortable in this soft fabric and lightweight dress. Include it in your wardrobe if you have a slim body.
Ruffled Crepe Gown
Every woman desires an hourglass figure. If you have that, then this is the best short-sleeve dress just for you. Flaunt your perfect figure in this beautiful sea green dress gown. The colour will soothe your eyes. The ruffle design is bliss to wear at the point of the day. Pair with beautiful pearl earrings and heeled sandals. You will surely gain all the attention when you step up in this dress. Your hourglass figure undoubtedly deserves this charming gown in short sleeves. This dress is a must-have in 2021 in your wardrobe collection.
Lace Dress
You cannot give a miss to this beautifully crafted lace dress with short sleeves. The soothing colour and the perfect length of this dress are a must-have for your collection. Flaunt your figure with this off-shoulder dress that you can team up with pump shoes or flat ballets for a dinner invitation. You will get complimented for your perfectly toned figure in this beautiful dress.
Your dresses often reveal your persona and highlight your styling sense. So select your attire carefully. Dress up like a pro with all the tips given above.