We may or never understand how fashion moves each season and year. Perhaps our outfits today will be in vain or be dimmed in the limelight for a decade.
This is what exactly our wide waist belts have gone through since the early 2000s. Now, we are openly seeing these accessories out in the streets, again, especially in this season with a big revelation on how others successfully pull this off with their dresses. Is this a story of a new comeback? Come and see how time flies back when wide waist belts are surely in-demand.
It feels nostalgic to see these accessories back again with new styles and innovations that can instantly update our wardrobe dresses. Not to mention those "wide waist belts in black" that seem futuristic in style with the correct dress and other accessories.
Here are the things that you can do with the wide waist belts that will surely work for you!
WHY WIDE WAIST BELTS?
Many believe that there are ways how you can be fashionable with a wide waist belt by knowing what outfits or clothing to wear. Well, it is true indeed and we will be going with some of the latest fashion trends where a wide waist belt is present.
Your New Street Style
A wide waist belt in black is a fun way of updating your street fashion sense, combined with the right pair of accessories. If you don't want to feel like being left behind, go for a wide waist belt with a square buckle in faux leather. Pair it with a cardigan or sleeve dress in strips or, a brown jacket for a more detailed approach. An above-the-knee boot is a good addition to your overall outfit, plus a luxury handbag brand to complete the get-up.
On a new level wide belt – black(shop at https://www.fashionnova.com/)
A Rugged Cowboy Style
Fashion trend works best when you know how to incorporate your emotions, passion, and style into your outfit. This rugged cowboy look shows off a new definition of what is "rugged" because of the wide waist belt with double buckle and chain-link detail. It is more to say that this style of an outfit in a wide belt values sophistication and sexiness. Who would have thought that a crop-top sleeveless dress with skinny jeans and ankle boots will look this enticing? Now, do you feel like copying this type of style? If you're willing to get out of that comfort, then this is a must-try!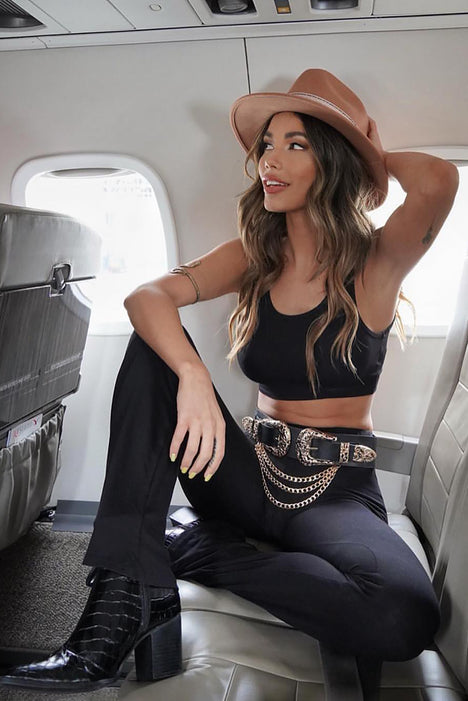 Must be love belt – gold(shop at https://www.fashionnova.com/)
Business Casual Attire At A New Level
Are you getting sick and tired of wearing the same business casual dress in your closet? Let your business casual dress looks better with this oversize buckle chunky waist belt. It works by adding a bit of glam to your outfit with its noticeable square buckle in gold. Pair it with a blazer or with your officewear or, for casual days, you may go with a skirt or a loose blouse. In this way, wearing a wide waist belt with loose dresses may not feel like your waist has lost to the fabric.
Belts And Jeans  
Sometimes, approaching fashion by being simple is a good way of starting things right for you. Of course, there is no right or wrong when it comes to fashion and how you dress but being in a safe zone (out from the eyes of critiques) deals a great boost of confidence in your choices and decisions. So going back, a simple combo like wearing your jeans with a Gigi belt feels more complete and fashionable in a sense. It is also a cool way of wearing other accessories too such as sunglass and shoulder bags.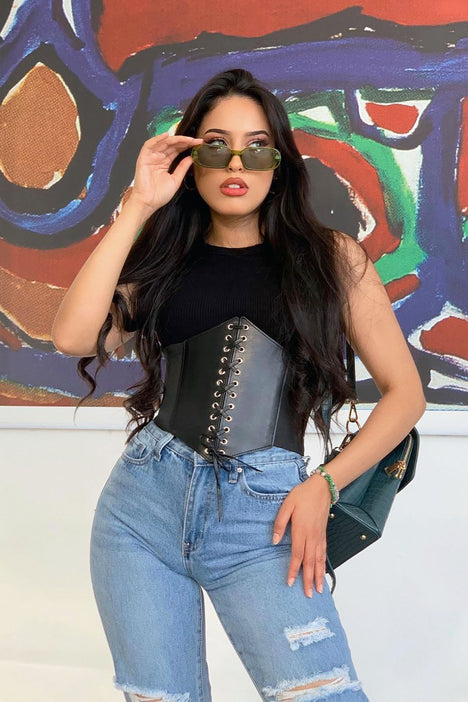 Gigi belt – black(shop at https://www.fashionnova.com/)
Your Bold And Sexy Outfit
If you're going to look into it, there are countless possibilities where you can wear a wide waist belt in denim. For instance, creating your bold and sexy style of outfit is easy with a combination of a crop top, denim shorts, and black wide belts. You may also get your inspiration through social media such as Facebook, Instagram, or Twitter. Want to become someone's center of attention? Get your wide waist belt and start incorporating them with your wardrobe collection!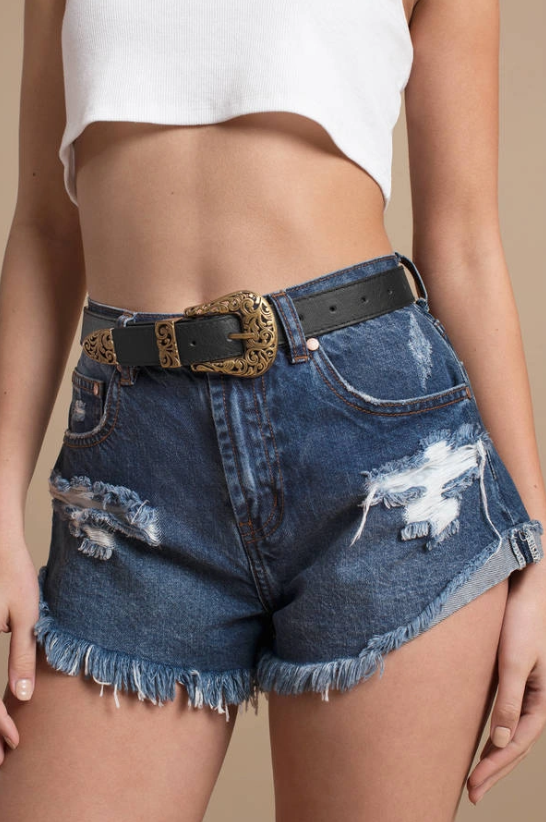 Black Dress And A Belt
Flaunting how beautiful you are in a black sleeve shirt and belt is something you should be proud of. This type of outfit in a wide waist belt leans more on being sophisticated with elegance. Not to mention the addition of some accessories such as earrings, rings, and bracelets. You may opt for a jeans or skirt for your bottoms but the emphasis of a matching colored dress with your belt is one thing. It is basic knowledge how black color tends to make you look sleeker, and with a waist belt as an accompaniment to the said "definition."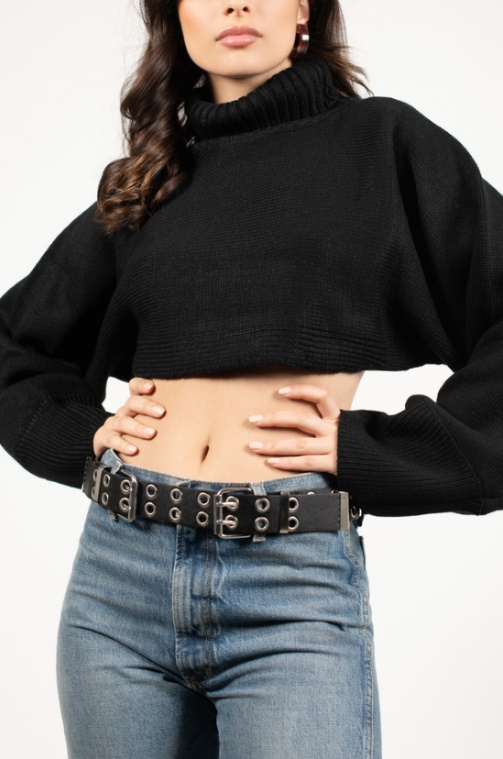 Danielle black double buckled belt(shop at https://www.tobi.com/)
A Corset Waist Wide Belt
Try your chance in having an alluring appearance with the cinching of this corset wide belt which also helps in lifting your bust. It is beautiful enough as an accessory that you can wear over your dress or with a skirt to emphasize your curving waistline. Get the most out of this corset belt to bring out that great fashion sense by adding some jewelry and ankle boots.
It's fun to see that wide waist belts, especially those in black pave their way to stardom again. And as a fanatic of what fashion brings, it is always refreshing to the eyes to see those that are "forgotten" have their place again in our hearts. Truly we can't say that "this" or "that" outfit is sure to last, yet we can always remember those trendy outfits, at some point have been hitting the top spots.