Looking for the methods to match your wide-leg pants?
But stuck with, 'what is the perfect way to wear it?', 'How to carry it?', 'Will it look nice on me?'
If your answer to the above questions is yes, then you have landed on the correct page. Going down your legs and hanging loosely down your torso, wide-leg pants are making their way to billions of hearts around the globe.
Not only do they provide you with a sense of comfort but also are a go-to outfit that you must have in your wardrobe. Whether the shape of your body is inverting, triangular, oval, straight, pear, or apple-shaped, wide-leg pants give your body a beautiful illustration of hourglass body shape, so it will go with every body shape if you follow some simple matching methods for wide-leg pants.
1. Wide-leg Pants With A Cardigan
wide leg pant and cardigan – Bing images
Including a cardigan over wide-leg pants will give a classy touch to your outfit. A plain white top with a long cardigan sitting just right above your ankles, wide-leg pants along with some cool sneakers or shoes of your preference, and a pair of goggles will be a perfect fit for making your Sunday outing more fashionable. You can even try some cardigans with slits for more styling options.
Pros
Can style a cardigan with wide-leg pants in many ways
You can add accessories like necklaces, bracelets
If you are wearing a cardigan with slits, it can do a great job of remaining neutral and not overpowering itself over the pants.
You can try anything in footwear from sneakers to ankle boots.
2. Wide-leg Pants With Plain T-shirt
wide leg pant and t-shirt – Bing images
A plain t-shirt is a must-have article for any wardrobe. If you don't have it yet, hurry and get one for you. Wide-leg pants go very well with a simple t-shirt. Just tug your t-shirt loosely in the wide-leg pants and you are good-to-going for anywhere. You even can just tug the front hem of your t-shirt and leave the rest falling at the ends loosely. It will make you look extra fashionable.
Pros
A plain t-shirt brings the focus to the wide-leg pants rather than itself, so it will make your pants stand out the most.
You can style a plain tee in many ways, one being the layering.
A plain t-shirt gives the minimal look, making it classier to wear.
A plain tee is always in demand.
3. Wide-leg Pants With Denim Jacket
Denim jackets are one of the clothing articles which will never run out of fashion. Whether it is summer or winter, you can always go for a denim jacket over a simple t-shirt or shirt and wide-leg pants, giving a finishing touch to this perfect trekking outfit. It is perfect for a casual day.
Pros
From high-rise, low rise to mid-rise, denim jackets can go with your wide-leg pants in various forms.
Denim jackets have low chances of getting wrinkles.
It provides your year-round comfort since you can wear it in any season. They have the right number of insulating properties.
Denim Jackets have great strength so you can enjoy them for long.
4. Wide-leg Pants With A Tube Top
wide leg pant and tube top – Bing images
For a summer day, a tube top with wide-leg pants will make a comfy and all-set outfit. You just have to tuck in your tube top in wide-leg pants. If you love your body shape and want to appreciate it, this combo of wide-leg pants with a tube top will do justice to you. This outfit will do a great job to highlight your body figure. It is also good for people who want to add some additional inches to your height by creating an illusion to make you appear taller than you already are. You can easily match it with some sneakers.
Pros
This outfit enhances the curves of your body.
Best choice for summers as it provides proper ventilation.
It does a great job in hiding the bulging tummy if you have one.
Big bold earrings and necklaces will add to its beauty.
5. Wide-leg Pants With A Tank Top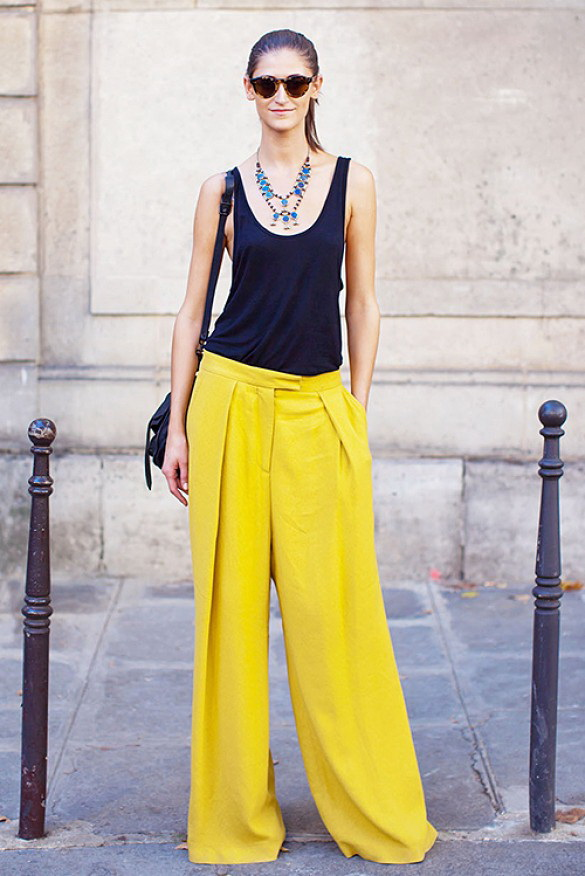 Tank top is yet another article to style with your wide-leg pants. If you want to look chic, you should try this combo. You can tuck the tank top in the pants, and you are good-to-go. It will give a casual touch.
It is a perfect fit for people who like to do exercises as they made it of dry and comfortable material.
A good preference on a hot day as they do a good job managing body temperature.
You can add a paper bag along with some high heels to look more chick.
Tank top adds extra length along with wide-leg pants. You can even layer it up with a mid-length jacket.
The above-mentioned were only a few suggestions in which you can pair up your wide-leg pants. Take a look at 5 tips on how to wear wide-leg pants. Besides this, you can experiment with however clothing articles you can.