Pants are one of the most common items in our closets these days as they are comfortable and easy to wear. If you are not sure what to wear, you can just put on a pair of jeans with a T-shirt or blouse and you are ready to go.
If you get used to it, however, there is a big chance that your personal style will become boring and very predictable. We think that a true fashionista should have a very versatile wardrobe and clothes for every occasion. That includes a wide range of skirts and dresses as well.
Long skirts are a great equivalent to wearing pants and they will give you a totally different look and styling options.
Today we chose a couple of our favorite long skirts and we are going to show you how you can wear them. Have a look at our ideas below!
1. Pleated Skirt
Pleated maxi skirts are one of the hottest trends this spring and summer. They can be worn with sneakers, sandals, ballerina shoes, or high heels—depending on the occasion.
They are elegant and super feminine. You should invest in a couple of those skirts: one black, one in a neutral color such as beige or grey, and one in a brighter shade such as blue, fuchsia, or bright red.
2. Tulle Skirt
Elegant tulle skirts come in a variety of colors and lengths. If you are not sure about maxi skirts, try another length – midi or calf length.
Tulle skirts are perfect for all special occasions and events (have a look at the picture above). They can be also worn every day if you combine them with a simple T-shirt and comfortable sneakers. For more casual occasions try a skirt in pastel pink, light beige, or dark blue.
3. Maxi Skirt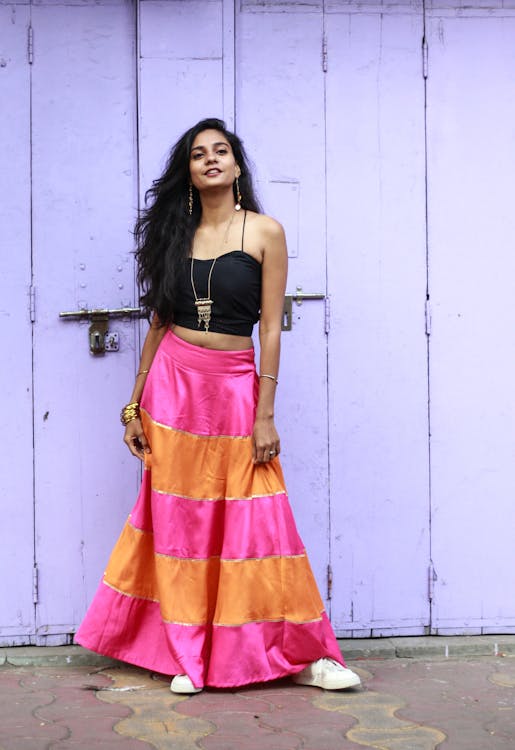 Floor sweeping skirts have never been more in fashion. They are a perfect alternative for wearing pants and allow you to achieve a very fashionable and feminine look. Give it a try!