Cindy Crawford is a known actress, superstar model, and also businesswoman of her own. Her appearance and ubiquitous aura in runways and magazine lead her to become successful in her modeling career. Later on, it becomes her way as an international celebrity and as a businesswoman later on.
She has a natural beauty who wins over the hearts of her fans, she is currently 55 years old, yet her face and skin still look younger than her actual age. Maybe Cindy uses magic to make her not age, but it is impossible for that; she probably uses the best beauty products and skincare we can also use as an inspiration.
Her beauty mark is the mole on her upper lip, which is recognizable as how she still looks pretty at such an age; she enters and creates beauty products called Meaningful Beauty for Guthy-Renker and Jean-Louis Sebagh.
The beauty routine worth copying and emulating is Cindy's Crawford Skincare Secrets; she still looks fantastic and pretty at her age. As she founded a beauty line of products, she also has an impressive skincare secret, and if you are rather curious about it, make sure to scroll down and take your time reading this.
1. Overnight Retinol Repairing Cream
This product is from her beauty line, as when you decided to take off your make-ups, this night cream probably gives you comfort, and as you age and discover things, you will know that it is essential to do. The Retinol product has a cell-turner Cindy said, meaning is you will have constant shedding of your dead skin in the face and replace it with younger cells.
A product that allows overnight skin repairs will hydrate your skin and have antioxidant properties that protect your cells against free radicals. This product is also said to reduce wrinkles and the appearance of fine lines around your face, making you look younger. This night cream also plays for an overall smooth texture.
2. Environmental Protecting Moisturizer
For women, moisturizer is a must, so this product is one of her beauty secrets in maintaining her youthful facial appearance. She uses this product daily to keep her everyday beauty; the most popular moisturizer has SPF, so this product she uses, has an SPF of 30. You can wear this product alone without any make-up since it naturally glows your natural beauty and looks.
This moisturizer will grant protection for the sun rays, affecting your skin to stay healthy and looking so young. An emollient is a cosmetic where prevents your skin from dryness, and this will also soften and lubricate your skin. Moisturizers will help to reduce the development of extreme dryness of your normal skin.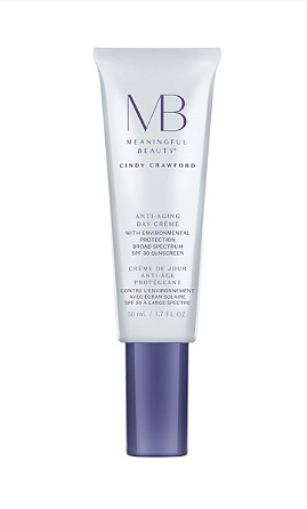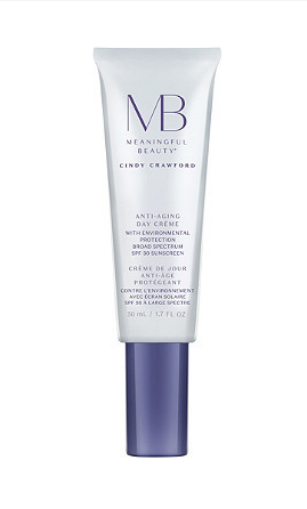 3. Youth Activating Melon Serum
This serum was effective and famous since it is composed of the vital ingredient, the melon leaf stem cell. This serum also has hyaluronic acid and has many benefits. This product will promote healthier and more supple skin, and this will also be good for your skin hydration which will moisturize and glow your skin.
Cindy uses this product since it firms your skin and diminishes the uneven tone; this will also boost and increase the radiance of your skin. Many say this product also helps enhance their complexion, which also saves their day-to-day skincare routine. It has natural and organic substances that you will surely love. This product was also from Cindy's beauty line; it performs your daily beauty routine and your night moisturizer. She also personally loves using serum since it has more potency.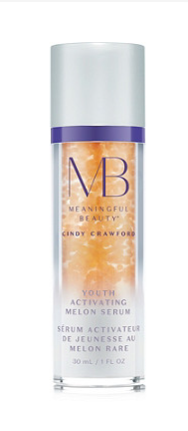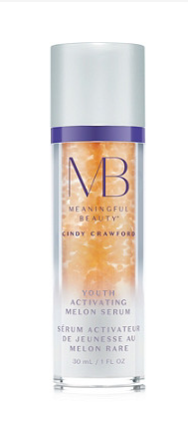 4. Golden Ice Globes
Cindy Crawford uses three or five products to her daily skincare routine and almost the same at night. She uses this tool for her puff eyes and uses it as her morning beauty routine. These little golden balls are soothing, and she also said that herself. This product stimulates the circulation of lifts and plumps outlines through your face.
These golden ice globes eliminate the redness of the skin after you do waxing. This product stimulates the nerves, exercises the muscles in the face, and reduces fine lines; these golden globes will tighten your skin and helps reduce pore size. This equipment is excellent for the treatment of your puffy eyes.
5. Lip Balm
Her lips shine and look soft, and this is from La Mer's classic lip balm, which she always purchases and is also known for its natural sweet smell.
This lip balm will indeed hydrate your lips and recover your chapped lips to a new and silky one; it also helps attract women since it is lovely and pretty. La Mer lip balm has a minty and cool scent which is refreshing.
If you probably have the driest lips, swear this lip balm will help you with that. Its quality amazes people who try and purchase it. This product will surely restore and strengthens your natural lips, and it will instantly soften your lip's dryness.
Like how the beauty standard increases as our generation progress, some products have been used to enhance beauty. The evolution of skincare beauty products amazes how it can create a big difference and maintain your face to look younger and fresh. The next generations of beauty will probably enjoy the unfolding beauty products and how it works.
You don't need to be Cindy Crawford or be like her to look beautiful; however, you must accept what you have and keep trying to make yourself a better version of yourself.